Composer of the Year
2020-2021

Yoichi Sugiyama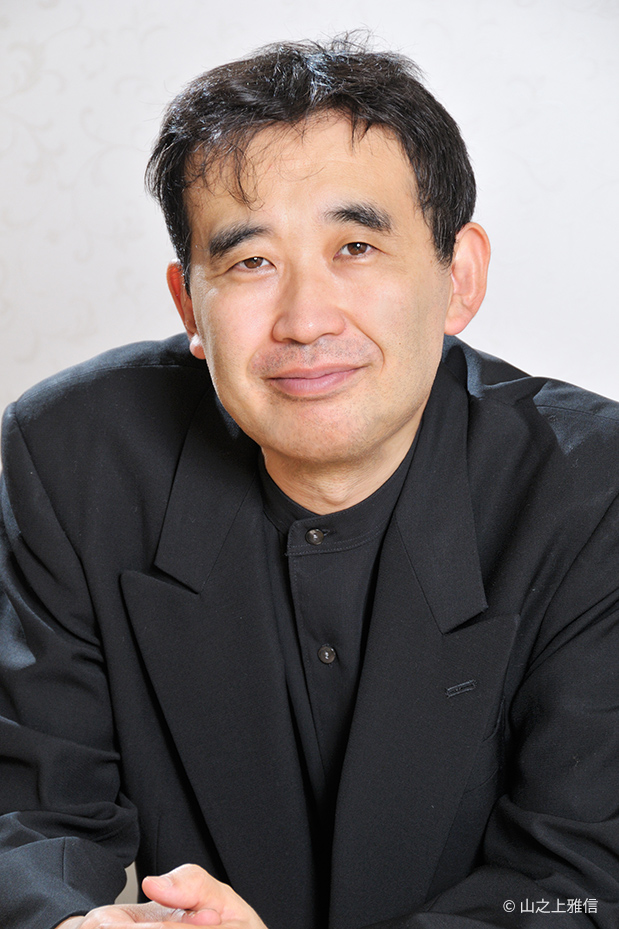 Yoichi Sugiyama (born in 1969 in Tokyo) has studied orchestral conducting with Emilio Pomàrico and Morihiro Okabe as well as composition with Franco Donatoni, Sandro Gorli and Akira Miyoshi.  
As a composer, he has received many commissions from Japan and abroad, including the Milano Musica and the Venice Biennale. His major works include "Wall" (2017) for percussionists based on a presidential decree, "Beyond the Border" (XXXX) to protest the war in Iraq, "Tree-Nation" for percussion (2008) for the Sahara Tree Planting Project, "Fragments, Variations, and Reconstructions from <Like a Bereaved Woman>" based on Banshoi, the Israeli national anthem and an ancient Palestinian song, and "Horse" (XXXX) based on a Tibetan folk song, "The Last Interview from Africa"(2013), a quintet dedicated to Ken Saro-Wiwa and the Great East Japan Earthquake in 2011,  "Two Poems by Du Fu," (XXXX) for female voice and chamber music; "Scenes from Childhood" (XXXX) by Schumann arranged for viola quartet, "Steps" (XXXX) for Shamisen and Strings based on the melody of the Shamans of the Briar Tribe, and "Kuguhi (Swan Song)" (XXXX) for 17-stringed String Orchestra based on the 誄歌 poem.  
As a conductor, he has conducted many orchestras, ensembles and operas in Japan and Europe. Major theatrical works in which he has been involved include Prometeo (Nono), Falstaff (Verdi), The Magic Flute (Mozart), Kraanerg (Xenakis), Conversations  with Chomsky (Casale), The Master of Go (Melchiorre), The Raven (Toshio Hosokawa), Time in the Air in Flight (Sahni), The Art and Method of Negotiating Wage Increases with Your Boss" (Montalti), "Stolen Words" (Betta).  
He is also active as an organizer and producer, and has been involved in the concerts of Yuji Takahashi's works I "Kagahi" (December, 2018), II "Hannya Haramita" (October, 2019), the opera "The Provocators" by Yoriaki Matsudaira (December, 2018), the "Takemitsu Toru Mini Festival" at the opening of Sakai Performing Arts Center (December 2019), all of which he also acted as a conductor. 
As a composer, he received the 13th Keizo Saji Prize and the 2nd Toshi Ichiyanagi Contemporary Prize. As a conductor, he was awarded the 2018 Art Encouragement Prize for New Talent by the Ministry of Education, Culture, Sports, Science and Technology, received the Order of the Knight of Sant'Agata of the Republic of San Marino in 2010.  
He has been residing in Milan ever since he obtained a scholarship for composition from the Italian Government in 1995. His CD of Donatoni's orchestral works including "Prom" and "Esa" which he completed in Donatoni's last years, performed by the Tokyo Philharmonic Orchestra under the baton of Sugiyama, won the 2015 Amadeus Disc Award.  
He teaches at the Claudio Abbado Conservatory in Milan.
Historic OEK Composer of the Year
2020-2021

Yoichi Sugiyama
TBAFirst performed:17 March 2022 (planned)
Performance:The 452nd Subscription Concert
Venue:Ishikawa Ongakudo Concert Hall
Conductor:Kentaro Kawase


2019-2020

Kenji Sakai
Jupiter HallucinationFirst performed:27 February 2021
Performance:The 438th Subscription Concert
Venue:Ishikawa Ongakudo Concert Hall
Conductor:Kentaro Kawase


2018-2019

Miho Hazama
Dom Justo's FaithFirst performed:25 January 2020
Performance:The 424th Subscription Concert
Venue:Ishikawa Ongakudo Concert Hall, Ishikawa
Conductor:Maxime Pascal


2017-2018

Shin-ichiro Ikebe
Beyond This Wind for OrchestraFirst performed:8 September 2018
Performance:Hiroyuki Iwaki Memorial Concert
Venue:Ishikawa Ongakudo Concert Hall, Ishikawa
Conductor:Hubert Soudant


2016-2017

Thierry Escaich
Organ Concerto No.3 "Quatre Visages du Temps"First performed:18 July 2017
Venue:Ishikawa Ongakudo Concert Hall, Ishikawa
Conductor:Michiyoshi Inoue
Organ:Thierry Escaich


2015-2016

Toshi Ichiyanagi
Symphony No.10 - Scenes of Various MemoriesFirst performed:2 June 2016
Venue:Ishikawa Ongakudo Concert Hall, Ishikawa
Conductor:Kentaro Kawase
Award:Otaka Prize (2017)


2014-2015

Atsuhiko Gondai
Vice VersaFirst performed:18 July 2015
Venue:Ishikawa Ongakudo Concert Hall, Ishikawa
Conductor:Michiyoshi Inoue
Award:Otaka Prize (2016)


2012-2014

Unsuk Chin
Graffiti for large ensembleFirst performed:6 September 2014
Performance:Hiroyuki Iwaki Memorial Concert
Venue:Ishikawa Ongakudo Concert Hall, Ishikawa
Conductor:Kazuki Yamada


2011-2012

Misato Mochizuki
3 Mille mondesFirst performed:3 September 2011
Venue:Ishikawa Ongakudo Concert Hall, Ishikawa
Conductor:Michiyoshi Inoue


2010-2011

Takashi Kako
Vermilion ScapeFirst performed:3 September 2010
Venue:Toyama Kenmin Kaikan, Toyama
Conductor:Michiyoshi Inoue


2009-2010

Roger Boutry
Concerto for Alto and Soprano SaxophonesFirst performed:6 September 2009
Venue:Ishikawa Ongakudo Concert Hall, Ishikawa
Conductor:Michiyoshi Inoue
Saxophone:Nobuya Sugawa


2008-2009

Shigeaki Saegusa
Piano Concerto "Philosophy of Squids"First performed:10 September 2008
Venue:Ishikawa Ongakudo Concert Hall, Ishikawa
Conductor:Michiyoshi Inoue
Piano:Kaori Kimura


2007-2008

Toshi Ichiyanagi
Symphony No.7 "Ishikawa Paraphrase" - In memory of Hiroyuki IwakiFirst performed:8 January 2008
Venue:Ishikawa Ongakudo Concert Hall, Ishikawa
Conductor:Michiyoshi Inoue


2006-2007

Tokuhide Niimi
Sinfonia Concertante "Elan Vital"First performed:7 September 2006
Venue:Ishikawa Ongakudo Concert Hall, Ishikawa
Conductor:Yuzo Toyama
Award:Otaka Prize (2007)


2005-2006

Yoshio Mamiya
Tableaux pour Orchestre 2005First performed:24 November 2005
Venue:Ishikawa Ongakudo Concert Hall, Ishikawa
Conductor:Hiroyuki Iwaki


2004-2005

Atsuhiko Gondai
84000×0=0 for Orchestra, op.88First performed:19 March 2005
Venue:Ishikawa Ongakudo Concert Hall, Ishikawa
Conductor:Hiroyuki Iwaki


2004-2005

Lera Auerbach
Concerto for Violin and Orchestra No.2, op.77First performed:21 September 2004
Venue:Ishikawa Ongakudo Concert Hall, Ishikawa
Conductor:Hiroyuki Iwaki
Violin:Akiko Suwanai


2003-2004

Toshiro Saruya
AneamnesisFirst performed:19 September 2002
Venue:Ishikawa Ongakudo Concert Hall, Ishikawa
Conductor:Hiroyuki Iwaki


2002-2003

Akira Miyoshi
Three ImagesFirst performed:8 September 2002
Venue:Ishikawa Ongakudo Concert Hall, Ishikawa
Conductor:Hiroyuki Iwaki
Piano:Kaori Kimura
Chorus:Orchestra Ensemble Kanazawa Chorus, OEK Angel Chorus


2001-2002

Teizo Matsumura
To the night of GethsemaneFirst performed:8 September 2002
Venue:Ishikawa Ongakudo Concert Hall, Ishikawa
Conductor:Hiroyuki Iwaki


2000-2001

Tetsuji Emura
The Wedge for OrchestraFirst performed:4 September 2000
Venue:Niigata City Performing Arts Center, Niigata
Conductor:Hiroyuki Iwaki


1999-2000

Hikaru Hayashi
THRENUS (THRENODY) for OrchestraFirst performed:1 October 1999
Venue:Kanazawa Kanko Kaikan, Ishikawa
Conductor:Hiroyuki Iwaki


1998-1999

Keiko Fujiie
Guitar Concerto No.2 "Koisucho"First performed:12 March 1999
Venue:Kanazawa Kanko Kaikan, Ishikawa
Conductor:Hiroyuki Iwaki
Guitar:Kazuhito Yamashita
Award:Otaka Prize (2000)


1997-1998

Shin-ichiro Ikebe
Les Bois Tristes for OrchestraFirst performed:3 September 1998
Venue:Kanazawa Kanko Kaikan, Ishikawa
Conductor:Hiroyuki Iwaki
Award:Otaka Prize (1999)


1996-1997.4

Toshiro Mayuzumi
Passacaglia (unfinished)First performed:31 August 1997
Venue:Kanazawa Kanko Kaikan, Ishikawa
Conductor:Hiroyuki Iwaki


1995-1996.2

Toru Takemitsu
(unfinished)

1993-1995

Joji Yuasa
Piano ConcertinoFirst performed:24 September 1994
Venue:Aichi Performing Arts Theatre Concert Hall, Aichi
Conductor:Hiroyuki Iwaki
Piano:Kaori Kimura


1992-1993

Akira Nishimura
Birds HeterophonyFirst performed:19 September 1993
Venue:Aichi Performing Arts Theatre Concert Hall, Aichi
Conductor:Hiroyuki Iwaki


1991-1992

Yuzo Toyama
Symphonic IshikawaFirst performed:24 October 1992
Venue:Kanazawa Kanko Kaikan, Ishikawa
Conductor:Hiroyuki Iwaki


1988-1991

Maki Ishii
Fushi (Gestalt des Windes) 2First performed:3 October 1989
Venue:Palais des Beaux-Arts, Bruxelles
Conductor:Hiroyuki Iwaki
Nohkan:Michiko Akao


1988-1991

Toshi Ichiyanagi
Chamber Concerto "The Origin" with Solo KotoFirst performed:3 October 1989
Venue:Palais des Beaux-Arts, Bruxelles
Conductor:Hiroyuki Iwaki
Koto:Chieko Fukunaga