Composer of the Year
2018-2019

Miho Hazama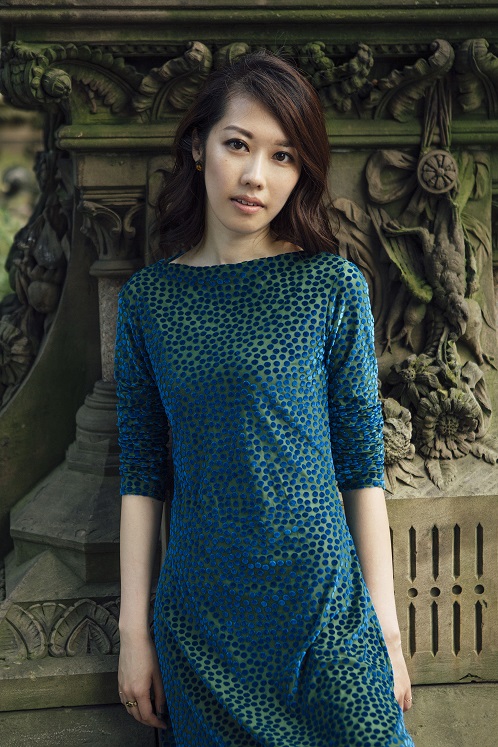 Tokyo born composer Miho Hazama is one of New York's most astounding young talents. Lauded in Downbeat as one of "25 for the Future", Miho is quickly establishing herself as a force of nature on the world's stage. As the 2015 recipient of the BMI Charlie Parker Composition Prize, Miho developed her signature ensemble "m_unit". Now having 3 full length releases on Universal Music Japan/ Sunnyside Records, Miho has written for and expertly showcased the abilities of guest artists such as Joshua Redman, Lionel Loueke, Stefon Harris, and Gil Goldstein, to name a few. Her debut album "Journey to Journey" received the Jazz JAPAN rising star award, and she has been featured in such influential publications as Downbeat, New York Times, NPR, JazzTimes among others.
Composition is her true calling, and in addition to her effort with m_unit, she has created works for many different musical contexts. Most notably, she has composed for Tokyo Philharmonic Orchestra, Ashley Bouder Project Ballet Company, YAMAHA Symphonic Band, Morgaua String Quartet, to name a few. In 2017, Miho became the Composer in Residence of Siena Wind Orchestra. She is also the Associate Artistic Director of the New York Jazzharmonic. 
Miho also has arranged and orchestrated for many ensembles for concerts, recordings, television and film, including Metropole Orkest, Ryuichi Sakamoto, Vince Mendoza, NHK Symphony Orchestra, Shiro Sagisu among many others. As a conductor, she has worked with Danish Radio Big Band, Metropole Orkest Big Band, WDR Big Band and Bohemian Caverns Jazz Orchestra, to name a few.
Miho's awards and honors include the Charlie Parker Jazz Composition Prize (2015), 24th Idemitsu Music Award (2014), ASCAP Young Jazz Composer Award (2011), and she was a Scholarship Recipient of the Manhattan School of Music (2010). She has a degree in classical composition from the Kunitachi College of Music and a masters degree in jazz composition from the Manhattan School of Music, and was honored by the Scholarship Program of Overseas Study for Upcoming Artists from the Japanese Agency for Cultural Affairs.
"…quickly became a talked-about writer and arranger." - The New York Times 
"...classy large ensemble that keeps the listener guessing and enchanted...something is always lurking and ready to pounce; then skitter away again."  - Jazz Times
"At a time when orchestral jazz is either ultra- polished, exceedingly high brow, or a pedestrian pandering to sentimental tastes of yore, Hazama's boldly organic and singularly exciting collective is a breath of fresh air. Her uncanny ability to remain intellectually stimulating and vibrantly spirited is what makes her work singularly innovative." - All About Jazz
Photo: Hiroyuki Seo
Historic OEK Composer of the Year
2018-2019

Miho Hazama
Dom Justo's Faith (Now Commissioning, world premiere on 25 January 2020)

2017-2018

Shin-ichiro Ikebe
Beyond This Wind for OrchestraFirst performed:8 September 2018
Performance:Hiroyuki Iwaki Memorial Concert
Venue:Ishikawa Ongakudo Concert Hall
Conductor:Hubert Soudant


2016-2017

Thierry Escaich
Organ Concerto No.3 "Quatre Visages du Temps"First performed:18 July 2017
Venue:Ishikawa Ongakudo Concert Hall, Ishikawa
Conductor:Michiyoshi Inoue
Organ:Thierry Escaich


2015-2016

Toshi Ichiyanagi
Symphony No.10 - Scenes of Various MemoriesFirst performed:2 June 2016
Venue:Ishikawa Ongakudo Concert Hall, Ishikawa
Conductor:Kentaro Kawase
Award:Otaka Prize (2017)


2014-2015

Atsuhiko Gondai
Vice VersaFirst performed:18 July 2015
Venue:Ishikawa Ongakudo Concert Hall, Ishikawa
Conductor:Michiyoshi Inoue
Award:Otaka Prize (2016)


2012-2014

Unsuk Chin
Graffiti for large ensembleFirst performed:6 September 2014
Performance:Hiroyuki Iwaki Memorial Concert
Venue:Ishikawa Ongakudo Concert Hall, Ishikawa
Conductor:Kazuki Yamada


2011-2012

Misato Mochizuki
3 Mille mondesFirst performed:3 September 2011
Venue:Ishikawa Ongakudo Concert Hall, Ishikawa
Conductor:Michiyoshi Inoue


2010-2011

Takashi Kako
Vermilion ScapeFirst performed:3 September 2010
Venue:Toyama Kenmin Kaikan
Conductor:Michiyoshi Inoue


2009-2010

Roger Boutry
Concerto for Alto and Soprano SaxophonesFirst performed:6 September 2009
Venue:Ishikawa Ongakudo Concert Hall, Ishikawa
Conductor:Michiyoshi Inoue
Saxophone:Nobuya Sugawa


2008-2009

Shigeaki Saegusa
Piano Concerto "Philosophy of Squids"First performed:10 September 2008
Venue:Ishikawa Ongakudo Concert Hall, Ishikawa
Conductor:Michiyoshi Inoue
Piano:Kaori Kimura


2007-2008

Toshi Ichiyanagi
Symphony No.7 "Ishikawa Paraphrase" - In memory of Hiroyuki IwakiFirst performed:8 January 2008
Venue:Ishikawa Ongakudo Concert Hall, Ishikawa
Conductor:Michiyoshi Inoue


2006-2007

Tokuhide Niimi
Sinfonia Concertante "Elan Vital"First performed:7 September 2006
Venue:Ishikawa Ongakudo Concert Hall, Ishikawa
Conductor:Yuzo Toyama
Award:Otaka Prize (2007)


2005-2006

Yoshio Mamiya
Tableaux pour Orchestre 2005First performed:24 November 2005
Venue:Ishikawa Ongakudo Concert Hall, Ishikawa
Conductor:Hiroyuki Iwaki


2004-2005

Atsuhiko Gondai
84000×0=0 for Orchestra, op.88First performed:19 March 2005
Venue:Ishikawa Ongakudo Concert Hall, Ishikawa
Conductor:Hiroyuki Iwaki


2004-2005

Lera Auerbach
Concerto for Violin and Orchestra No.2, op.77First performed:21 September 2004
Venue:Ishikawa Ongakudo Concert Hall, Ishikawa
Conductor:Hiroyuki Iwaki
Violin:Akiko Suwanai


2003-2004

Toshiro Saruya
AneamnesisFirst performed:19 September 2002
Venue:Ishikawa Ongakudo Concert Hall, Ishikawa
Conductor:Hiroyuki Iwaki


2002-2003

Akira Miyoshi
Three ImagesFirst performed:8 September 2002
Venue:Ishikawa Ongakudo Concert Hall, Ishikawa
Conductor:Hiroyuki Iwaki
Piano:Kaori Kimura
Chorus:Orchestra Ensemble Kanazawa Chorus, OEK Angel Chorus


2001-2002

Teizo Matsumura
To the night of GethsemaneFirst performed:8 September 2002
Venue:Ishikawa Ongakudo Concert Hall, Ishikawa
Conductor:Hiroyuki Iwaki


2000-2001

Tetsuji Emura
The Wedge for OrchestraFirst performed:4 September 2000
Venue:Niigata City Performing Arts Center, Niigata
Conductor:Hiroyuki Iwaki


1999-2000

Hikaru Hayashi
THRENUS (THRENODY) for OrchestraFirst performed:1 October 1999
Venue:Kanazawa Kanko Kaikan, Ishikawa
Conductor:Hiroyuki Iwaki


1998-1999

Keiko Fujiie
Guitar Concerto No.2 "Koisucho"First performed:12 March 1999
Venue:Kanazawa Kanko Kaikan, Ishikawa
Conductor:Hiroyuki Iwaki
Guitar:Kazuhito Yamashita
Award:Otaka Prize (2000)


1997-1998

Shin-ichiro Ikebe
Les Bois Tristes for OrchestraFirst performed:3 September 1998
Venue:Kanazawa Kanko Kaikan, Ishikawa
Conductor:Hiroyuki Iwaki
Award:Otaka Prize (1999)


1996-1997.4

Toshiro Mayuzumi
Passacaglia (unfinished)First performed:31 August 1997
Venue:Kanazawa Kanko Kaikan, Ishikawa
Conductor:Hiroyuki Iwaki


1995-1996.2

Toru Takemitsu
(unfinished)

1993-1995

Joji Yuasa
Piano ConcertinoFirst performed:24 September 1994
Venue:Aichi Performing Arts Theatre Concert Hall, Aichi
Conductor:Hiroyuki Iwaki
Piano:Kaori Kimura


1992-1993

Akira Nishimura
Birds HeterophonyFirst performed:19 September 1993
Venue:Aichi Performing Arts Theatre Concert Hall, Aichi
Conductor:Hiroyuki Iwaki


1991-1992

Yuzo Toyama
Symphonic IshikawaFirst performed:24 October 1992
Venue:Kanazawa Kanko Kaikan, Ishikawa
Conductor:Hiroyuki Iwaki


1988-1991

Maki Ishii
Fushi (Gestalt des Windes) 2First performed:3 October 1989
Venue:Palais des Beaux-Arts, Bruxelles
Conductor:Hiroyuki Iwaki
Nohkan:Michiko Akao


1988-1991

Toshi Ichiyanagi
Chamber Concerto "The Origin" with Solo KotoFirst performed:3 October 1989
Venue:Palais des Beaux-Arts, Bruxelles
Conductor:Hiroyuki Iwaki
Koto:Chieko Fukunaga