Composer of the Year
2019-2020

Kenji Sakai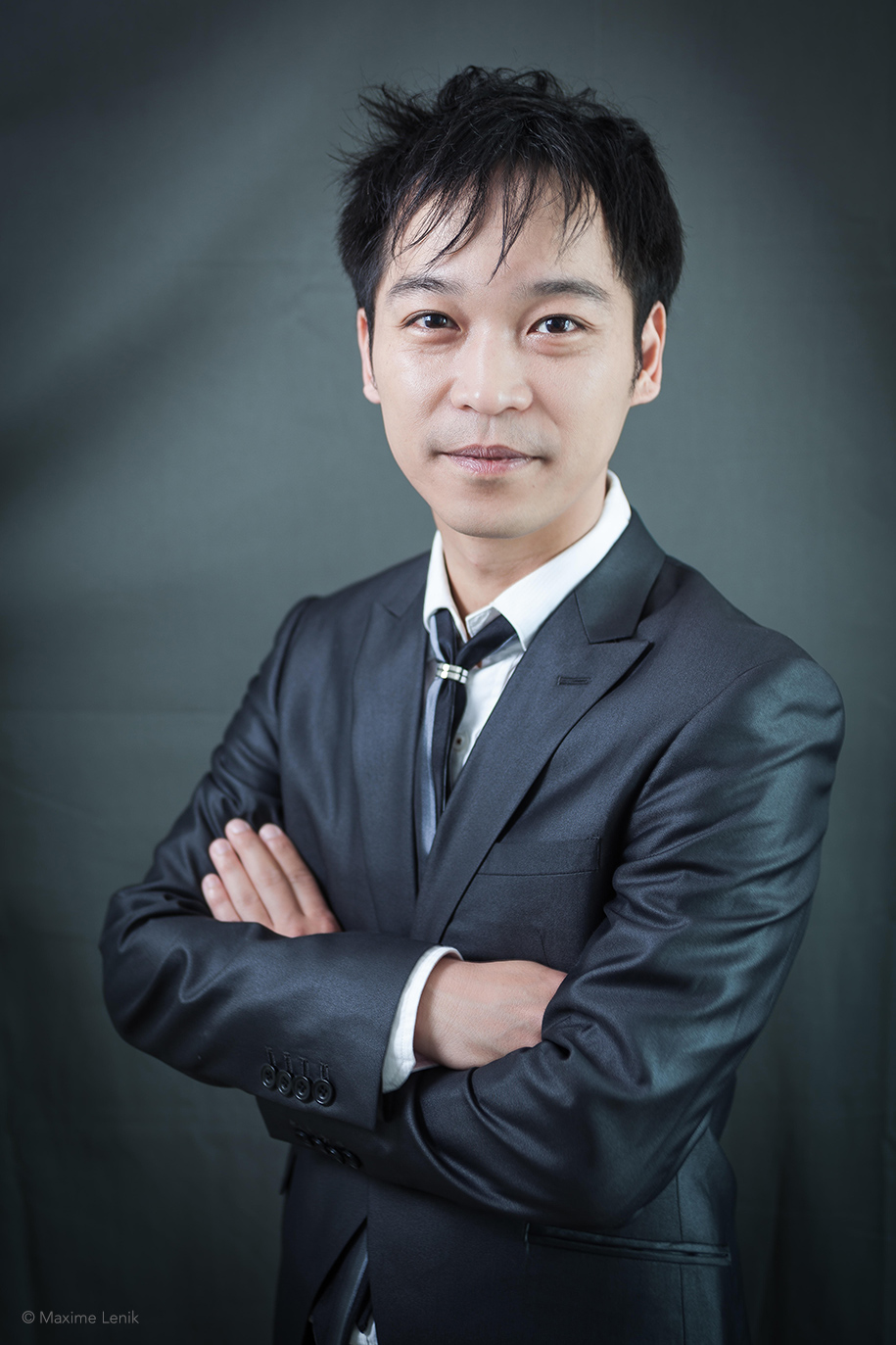 He was born in Osaka (Japan) on 6th August 1977. Studying at Kyoto University of Fine Arts and Music, he respectively studied composition, piano, electronics and analysis at Conservatoire National Supérieur de Paris, la Haute Ecole de Musique de Genève and at Ircam. He was a member of France Academy in Madrid for 2012-2013.

Helmut Lachenmann described Kenji Sakai's style as his compositional virtuosity was highly developed in a personal manner in dealing with sound and time, no sterile epigonism, without fear of triviality, but with a lightness and a luminosity and his works are performed by l'Orchestre National de Lyon, NHK Symphony Orchestra, Lucerne Symphony Orchestra, National Orchestra of Belgium, Ensemble Intercontemporain, Ensemble Contrechamps, Ensemble Itinéraire, Jonathan Nott, Jonathan Stockhammer, Momo Kodama, Tatsuki Narita, Mami Hagiwara and so on.

He gains several awards: Grand Prix in George Enescu International Competition (2007), First Prize in Toru Takemitsu Composition Award (2009), Art Mentor Foundation Lucerne Award (2010), Queen Elisabeth International Grand Prize (2012), Akutagawa Composition Award (2013) and Georges Wildenstein Prize (2013). In July 2012, he is also awarded by Commissioner for Cultural Affairs in Japan.

Recently his activities is not only focused on classical music but also a participation to the tribute album to pop singer, hide (X JAPAN), the appearances on J-MELO (TV), the jury in Music Competition of Japan and so on.
Historic OEK Composer of the Year
2019-2020

Kenji Sakai
TBAFirst performed:27 February 2021 (scheduled)


2018-2019

Miho Hazama
Dom Justo's FaithFirst performed:25 January 2020
Performance:The 424th Subscription Concert
Venue:Ishikawa Ongakudo Concert Hall, Ishikawa
Conductor:Maxime Pascal


2017-2018

Shin-ichiro Ikebe
Beyond This Wind for OrchestraFirst performed:8 September 2018
Performance:Hiroyuki Iwaki Memorial Concert
Venue:Ishikawa Ongakudo Concert Hall, Ishikawa
Conductor:Hubert Soudant


2016-2017

Thierry Escaich
Organ Concerto No.3 "Quatre Visages du Temps"First performed:18 July 2017
Venue:Ishikawa Ongakudo Concert Hall, Ishikawa
Conductor:Michiyoshi Inoue
Organ:Thierry Escaich


2015-2016

Toshi Ichiyanagi
Symphony No.10 - Scenes of Various MemoriesFirst performed:2 June 2016
Venue:Ishikawa Ongakudo Concert Hall, Ishikawa
Conductor:Kentaro Kawase
Award:Otaka Prize (2017)


2014-2015

Atsuhiko Gondai
Vice VersaFirst performed:18 July 2015
Venue:Ishikawa Ongakudo Concert Hall, Ishikawa
Conductor:Michiyoshi Inoue
Award:Otaka Prize (2016)


2012-2014

Unsuk Chin
Graffiti for large ensembleFirst performed:6 September 2014
Performance:Hiroyuki Iwaki Memorial Concert
Venue:Ishikawa Ongakudo Concert Hall, Ishikawa
Conductor:Kazuki Yamada


2011-2012

Misato Mochizuki
3 Mille mondesFirst performed:3 September 2011
Venue:Ishikawa Ongakudo Concert Hall, Ishikawa
Conductor:Michiyoshi Inoue


2010-2011

Takashi Kako
Vermilion ScapeFirst performed:3 September 2010
Venue:Toyama Kenmin Kaikan, Toyama
Conductor:Michiyoshi Inoue


2009-2010

Roger Boutry
Concerto for Alto and Soprano SaxophonesFirst performed:6 September 2009
Venue:Ishikawa Ongakudo Concert Hall, Ishikawa
Conductor:Michiyoshi Inoue
Saxophone:Nobuya Sugawa


2008-2009

Shigeaki Saegusa
Piano Concerto "Philosophy of Squids"First performed:10 September 2008
Venue:Ishikawa Ongakudo Concert Hall, Ishikawa
Conductor:Michiyoshi Inoue
Piano:Kaori Kimura


2007-2008

Toshi Ichiyanagi
Symphony No.7 "Ishikawa Paraphrase" - In memory of Hiroyuki IwakiFirst performed:8 January 2008
Venue:Ishikawa Ongakudo Concert Hall, Ishikawa
Conductor:Michiyoshi Inoue


2006-2007

Tokuhide Niimi
Sinfonia Concertante "Elan Vital"First performed:7 September 2006
Venue:Ishikawa Ongakudo Concert Hall, Ishikawa
Conductor:Yuzo Toyama
Award:Otaka Prize (2007)


2005-2006

Yoshio Mamiya
Tableaux pour Orchestre 2005First performed:24 November 2005
Venue:Ishikawa Ongakudo Concert Hall, Ishikawa
Conductor:Hiroyuki Iwaki


2004-2005

Atsuhiko Gondai
84000×0=0 for Orchestra, op.88First performed:19 March 2005
Venue:Ishikawa Ongakudo Concert Hall, Ishikawa
Conductor:Hiroyuki Iwaki


2004-2005

Lera Auerbach
Concerto for Violin and Orchestra No.2, op.77First performed:21 September 2004
Venue:Ishikawa Ongakudo Concert Hall, Ishikawa
Conductor:Hiroyuki Iwaki
Violin:Akiko Suwanai


2003-2004

Toshiro Saruya
AneamnesisFirst performed:19 September 2002
Venue:Ishikawa Ongakudo Concert Hall, Ishikawa
Conductor:Hiroyuki Iwaki


2002-2003

Akira Miyoshi
Three ImagesFirst performed:8 September 2002
Venue:Ishikawa Ongakudo Concert Hall, Ishikawa
Conductor:Hiroyuki Iwaki
Piano:Kaori Kimura
Chorus:Orchestra Ensemble Kanazawa Chorus, OEK Angel Chorus


2001-2002

Teizo Matsumura
To the night of GethsemaneFirst performed:8 September 2002
Venue:Ishikawa Ongakudo Concert Hall, Ishikawa
Conductor:Hiroyuki Iwaki


2000-2001

Tetsuji Emura
The Wedge for OrchestraFirst performed:4 September 2000
Venue:Niigata City Performing Arts Center, Niigata
Conductor:Hiroyuki Iwaki


1999-2000

Hikaru Hayashi
THRENUS (THRENODY) for OrchestraFirst performed:1 October 1999
Venue:Kanazawa Kanko Kaikan, Ishikawa
Conductor:Hiroyuki Iwaki


1998-1999

Keiko Fujiie
Guitar Concerto No.2 "Koisucho"First performed:12 March 1999
Venue:Kanazawa Kanko Kaikan, Ishikawa
Conductor:Hiroyuki Iwaki
Guitar:Kazuhito Yamashita
Award:Otaka Prize (2000)


1997-1998

Shin-ichiro Ikebe
Les Bois Tristes for OrchestraFirst performed:3 September 1998
Venue:Kanazawa Kanko Kaikan, Ishikawa
Conductor:Hiroyuki Iwaki
Award:Otaka Prize (1999)


1996-1997.4

Toshiro Mayuzumi
Passacaglia (unfinished)First performed:31 August 1997
Venue:Kanazawa Kanko Kaikan, Ishikawa
Conductor:Hiroyuki Iwaki


1995-1996.2

Toru Takemitsu
(unfinished)

1993-1995

Joji Yuasa
Piano ConcertinoFirst performed:24 September 1994
Venue:Aichi Performing Arts Theatre Concert Hall, Aichi
Conductor:Hiroyuki Iwaki
Piano:Kaori Kimura


1992-1993

Akira Nishimura
Birds HeterophonyFirst performed:19 September 1993
Venue:Aichi Performing Arts Theatre Concert Hall, Aichi
Conductor:Hiroyuki Iwaki


1991-1992

Yuzo Toyama
Symphonic IshikawaFirst performed:24 October 1992
Venue:Kanazawa Kanko Kaikan, Ishikawa
Conductor:Hiroyuki Iwaki


1988-1991

Maki Ishii
Fushi (Gestalt des Windes) 2First performed:3 October 1989
Venue:Palais des Beaux-Arts, Bruxelles
Conductor:Hiroyuki Iwaki
Nohkan:Michiko Akao


1988-1991

Toshi Ichiyanagi
Chamber Concerto "The Origin" with Solo KotoFirst performed:3 October 1989
Venue:Palais des Beaux-Arts, Bruxelles
Conductor:Hiroyuki Iwaki
Koto:Chieko Fukunaga