Biography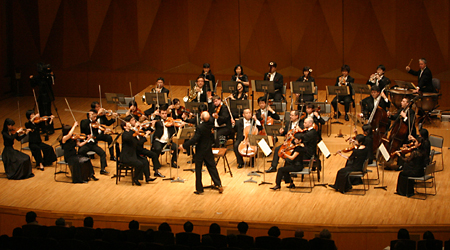 Orchestra Ensemble Kanazawa was founded in 1988 with support from Ishikawa Prefecture and Kanazawa city, a city symbolizing Japanese Art, Culture and Tradition. The initiative was taken by reknowned conductor Hiroyuki Iwaki to create the country's first multinational chamber orchestra, consisting of 40 musicians from all over the world. One of the youngest orchestras in the country, it has a busy schedule presenting more than 100 concerts a year in Kanazawa City, Ishikawa Prefecture and in all major cities throughout Japan. Additionally, the orchestra regularly performs abroad: there have been recent tours to Europe as well as to South-East Asia and Australia.
Conductors and Soloists performing with the orchestra have included Jean-Pierre Wallez, Oliver Knussen, Hervet Niquet, Nicholas Kraemer and Günter Pichler as well as Hermann Prey, Peter Schreier, Philippe Entremont, Yo-Yo Ma, Stanislav Bunin, Salvatore Accardo, Bruno Camino, Gidon Kremer and Ann Akiko Meyers.

Although programme building is based on classical repertoire, great emphasis is put on interpretation of contemporary music. The endeavor to commission, explore, and perform new music has led to more than 50 world premieres, mostly of pieces written by composers in residence, namely Toshi Ichiyanagi, Maki Ishii, Yuzo Toyama, Akira Nishimura, Joji Yuasa, Toru Takemitsu, Toshiro Mayuzumi, Shinichiro Ikebe, Keiko Fujiie, Hikaru Hayashi, Atsuhiko Gondai, Lera Auerbach, Yoshio Mamiya, Tokuhide Niimi, Shigeaki Saegusa, Roger Boutry, Takashi Kako and Misato Mochizuki.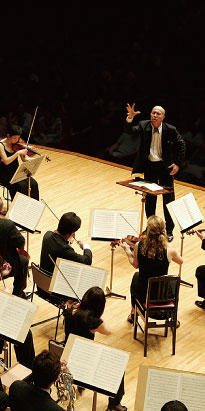 Among many CD productions by Orchestra Ensemble Kanazawa, Bizet/Shchedrin's Carmen Suite and Schnittke's Concerto Grosso No.1(Deutsche Grammophon), received the Record Academy Prize in 1992. "Messages for the 21st Century Vol.2"(Deutsche Grammophon), an album composed entirely of commissioned new music, also received the Record Academy Prize in 1995.

In 2005, Orchestra Ensemble Kanazawa was featured as "orchestra in residence" at the Schleswig-Holstein Music Festival in Germany, performing with Thomas Zehetmair, Jessye Norman, Ludovic Morlot and others. OEK was a guest again at this festival in 2008, 2011 and 2013.

From 2008 to 2016, Orchestra Ensemble Kanazawa has performed as resident orchestra at "La Folle Journeé de Kanazawa"in Japan, (René Martin, artistic director), performing with Anne Queffelec, Schleswig-Holstein Musik Festival Choir, Sayaka Shoji, Michie Koyama, Shani Diluka, Rolf Beck and Michiyoshi Inoue.